How the Power of Data Can Drive the European Union Economy
Diese Veranstaltung hat bereits stattgefunden.
April 24, 2018 @ 2:30 pm

-

3:30 pm
Veranstaltung Navigation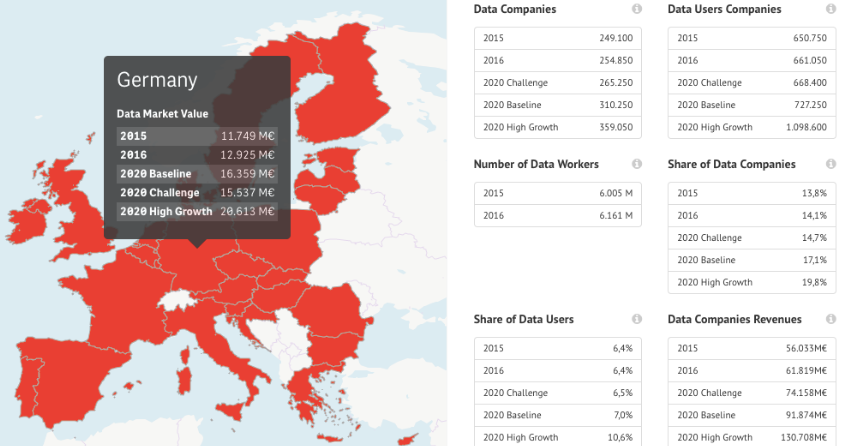 The pace of growth of the European Union data market accelerated in 2017 reaching a total value of €335.5 billion with an increase of 11.8% compared to the previous year. Is this trend poised to continue in the future and how can Europe capitalise on the potential economic gains or redeem the missed opportunities behind the data economy? Introducing new evidence, International Data Corporation (IDC) and the Lisbon Council invite you to this interactive webinar, which will present the latest findings of the European Union Data Market Study and the newEuropean Data Market Monitoring Tool, a unique interactive tool for tracking the size and value of the EU data economy. Participants will also discuss the evolving opportunities and associated risks of emerging data markets and data sharing practices in the real world.
Programme
14:30 Introduction
Katarzyna Jakimowicz, associate director, the Lisbon Council
14:35 The European Data Market Study Update and Monitoring Tool
Giorgio Micheletti, consulting director, IDC
14h45 The European Data Market: A Look to the Future – Alternative Scenarios for 2025
Maria Gabriella Cattaneo, associate vice-president, European government consulting, IDC
14:55 The European Data Market Study in Practice
Tjerk Timan, strategy and policy researcher, Netherlands Organisation for Applied Scientific Research (TNO)
15:10 Discussion and Q&A
15:25 Wrap up
Only registered participants will have access to the webinar.
About the Lisbon Council 
The Lisbon Council for Economic Competitiveness and Social Renewal asbl is a Brussels-based think tank and policy network. Established in 2003 in Belgium as a non-profit, non-partisan association, the group is dedicated to making a positive contribution through cutting-edge research and by engaging politicians and the public at large in a constructive exchange about the economic and social challenges of the 21st century. Its website is www.lisboncouncil.net.
About the International Data Corporation (IDC)
The International Data Corporation is the premier global provider of market intelligence, advisory services, and events for the information technology, telecommunications, and consumer technology markets. With more than 1,100 analysts worldwide, IDC offers global, regional, and local expertise on technology and industry opportunities and trends in over 110 countries. Its website is www.idc.com.
About the European Data Market Study 
The European Data Market is a European Commission funded study that aims to define, assess and measure the European data economy, with an eye towards supporting the data value chain policy of the European Commission. The programme is focused on developing a vibrant and innovative data ecosystem of stakeholders driving the growth of this innovative market in Europe. The main results will feed into the annual reviews of the Digital Agenda Scoreboard. The project is carried out by IDC and the Lisbon Council. For more information on the project, visit www.datalandscape.eu.