Inside W3C: Standards, Interoperability, Participation
Diese Veranstaltung hat bereits stattgefunden.
Dezember 3, 2018 @ 5:00 am

-

8:00 pm

Kostenlos
Veranstaltung Navigation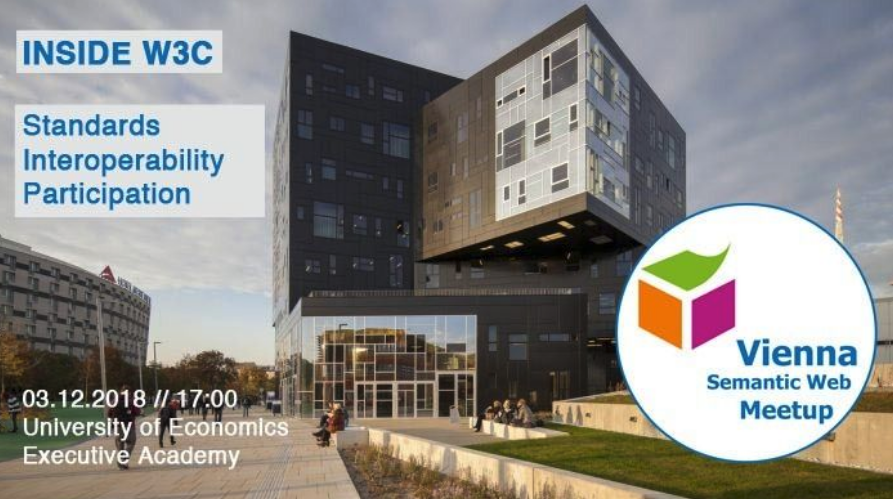 The W3C as one of the world's key standardization body, has been supporting so-called community groups for a number of years now. These groups have expanded the possibilities to contribute and make suggestions to technical standards on the Web to a broader community.
A lot of groups and individuals worldwide are active in these groups and contribute to shaping the Web. In this meetup, we aim at gathering people active in W3C Standardisation Groups, Community groups and genuinely interested in Standards to talk about the future of the Web and its technologies, and which role standards will play to keep the Web an open-access platform for everyone.
Welcome:
Axel Polleres (Wirtschaftsuniversität Wien
Department of Informations Systems & Operations)
Speakers (20 min):
Georg Rehm (DFKI, W3C)
Shadi Abou-Zahra (W3C) – invited
Lightning Talks (5 min):
Marin Kaltenböck (Semantic Web Company)
Simon Steyskal (Siemens)
Markus Sabadello (State of DIDs and Verifiable Credentials)
Networking and Drinks together with people you have to meet!