Guest post by Paolo Budroni on the Use Case Austria – Towards the European Open Science Cloud
Today we can follow a number of discussions about the European Open Science Cloud (EOSC) – a topic that is strongly related to the data and services infrastructure envisioned by the Data Market Austria (DMA) lighthouse project. For this month's blog post we asked Paolo Budroni, Head of Department at the Library and Archive Services of the University of Vienna, to give us an insight into the current state of discussion and the role that DMA plays in this context.
According to J.C. Burgelman (European Commission, DG Research and Innovation) and the EOSC High Level Expert Group, who recently published a report in this regard, the EOSC is composed by three layers: a Governance Layer, a Service Layer, a Data Layer. In the report essential elements (topics, issues and tasks) were assigned to each layer.
The vision defined in the document describes an ecosystem of ICT services for scientific research, where the main stakeholders/providers are: Libraries, ICT, Research Supporting Services, Legal Services, Research Communities, Funders, and Corporations. The stakeholders can offer their services via the cloud, and users (e.g. from the scientific communities) enjoy the freedom to choose the services they need from a mix of public e-Infrastructure- and sometimes commercial services. Service providers, however, have the freedom to innovate. Key elements of the EOSC are good governance, policies, rules of engagement, central and shared services across disciplines, trust based on compliance of legal and ethical requirements, and the fulfillment of the FAIR Principles for scientific data management.
In this context it seems that there is a strong Austrian presence and active participation in national, European, and international policy development initiatives. Austrian projects such as AuSSDA, e-Infrastructures Austria, Open Education Austria (OEA), and the recently funded Austrian Transition to Open Access project (AT2OA) are addressing and covering topics from all three layers (see figure below).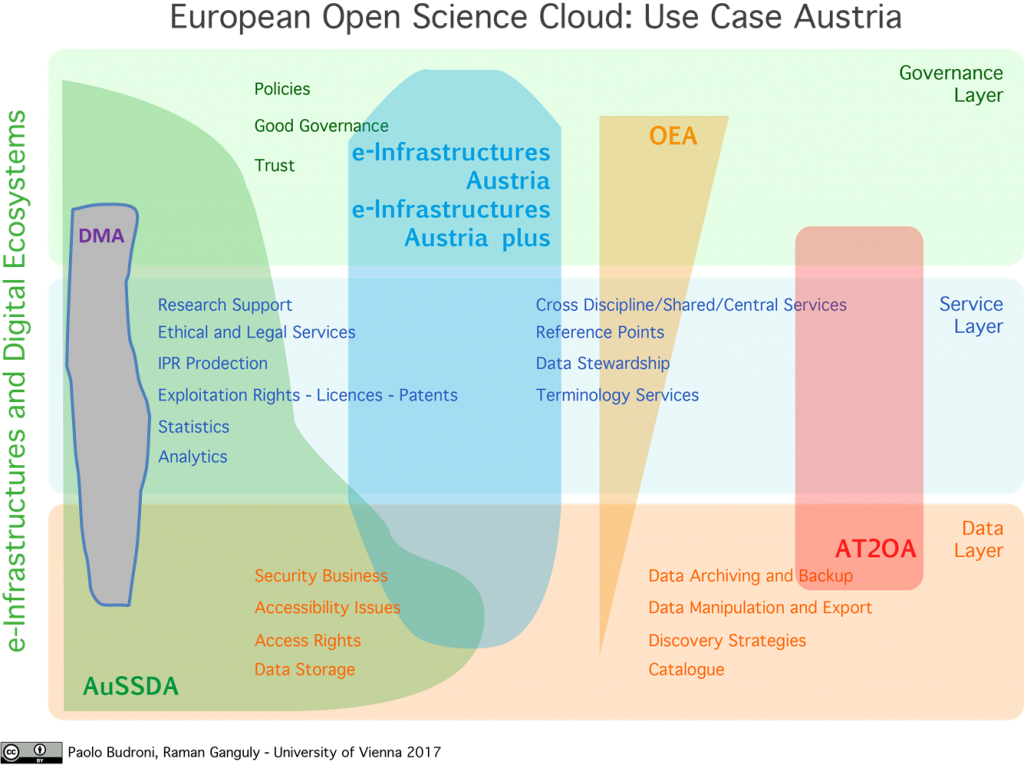 The Austrian DMA project fits very well in this context and it is an excellent example of how strong Austrian presence and active participation in national and international policy development initiatives is. The project is creating a Data-Services Ecosystem in Austria by advancing technology foundations for secure data markets and cloud interoperability, and creating an environment encouraging data-centered innovation. DMA could serve as a basis for further development of existing e-infrastructure and research data policies as well as related strategies. In particular the project covers aspects of all three digital ecosystem layers.
The DMA pilots will demonstrate the reuse of data and services and resulting value generated through innovative applications built on multiple open and proprietary data sources within the Earth Observation and Mobility application areas, with opportunities to extend to further application areas. In this context DMA could provide additional insight into working practices as well as success stories that can be used as additional input or support by both policy makers and practitioners.
Paolo Budroni, Head of Dpt. at Library and Archive Services, University of Vienna
He is Austrian E-IRG National Delegate, member of the managing board of the project Open Education Austria, responsible for the WP-3 of the H2020 LEARN Project and the representative of the University of Vienna at the nation wide project e-Infrastructures Austria.