Back-2-back with the fourth DMA plenary meeting on 19.03.2018 a public event was organised at the Factory 300. Among the guests was a remarkable amount of young interested participants interested mostly from technical or business perspectives. Mihai Lupu gave a talk about the present, past and future of the Datamarket Austria followed by the founding members of Triply.

Triply
Have you ever wanted to go to an event by bus? Have you ever decided against the bus because the stops are not convenient to you? Triply (www.triply.fun ) is a start-up in the mobility domain focusing on the optimization of public transportation routes, wishing for all public transportation data to be available as open data.
BIG IoT
Bridging the Interoperability Gap of the Internet of things – the BIG IOT Project (http://big-iot.eu/) was introduced to us. It investigates an approach to make use of all the things connected with each other in a Smart City, in other words how to enable an IoT Ecosystem.
Pegelalarm
One more innovative start-up demonstrated their idea and implementation of a water level observation App. Pegelalarm (http://pegelalarm.at/paw/) warns against flooding situations and includes data about the water levels from seven different countries.
Do you want to know more about the DMA? You can even try our components! Apply to work with them and tell us what to improve!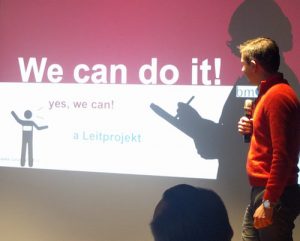 DMA's Peter Tschuchnig presented first insights into a call, which invites companies to pioneed data driven projects at DMA plattform. The final version of the call will be published on the funding agency's website (FFG). Three cases are imaginable:
Do you have data and do you want to make use of it with the aid of the DMA?

Do you need data, but don't know how to get access to it?

Do you want to work with data available on the DMA?
Companies with good ideas of business models will be invited to test the interim outcome of the DMA-project to first set the foundations to exercise the economic activity envisaged by them based on data and second to provide the DMA-consortium with valuable information on their experiences with the DMA-components. The consortium aims at refining them and making them more customer-friendly based on the feedback.
Pictures of the evening
Be informed about the latest developments for this funding opportunity and sign up for DMA's Associate Partner Program.