The networking session hosted by DMA at this year's ICT conference in Vienna was dedicated to connecting interested actors in Europe and beyond for the common endeavour of shaping an international data market. Some EU Member States have already started to specify and/or even establish national data markets, either through the involvement of policy makers or driven by the industry. Beside national data markets providing national data infrastructure, industry specific data markets appear providing data and services for specific industries.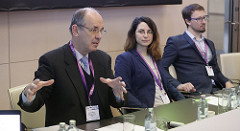 The session Data Markets in Europe ­- linking ecosystems for a successful data economy was opened by Mihai Lupu, DMA's coordinator, who introduced the Data Market Austria project and its aims. The presentation provoked many questions in the audience and raised the interest of the approximately 50 participants from all over Europe. The solutions developed by DMA received positive feedback, but also suggestions for improvement by the audience.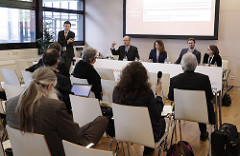 The subsequent panel discussion was moderated by Prof. Peter A. Bruck (RSA). The three panelists represented views of regulatory and research funding bodies (Lisbeth Mosnik, BMVIT), industry (Bernhard Niedermayer, Catalysts), and research (Michela Vignoli, AIT Austrian Institute of Technology). The objectives of the panel discussion were to share requirements and technology trends between technologists and business representatives, and to initiate a communication platform on the topic of European Data Markets. The panelists started by briefly introducing themselves and their roles. Afterwards the moderator and the audience asked questions about the DMA technology, but also about responsibilities and impact on regulatory bodies and economy, as well as on societal implications and how to preserve data security and privacy. The vivid discussion between the panellists and the audience showed that there are still many open questions, but also a lot of innovative ideas to address them.
DMA is looking forward to continue cooperating with a vibrant data market community and to exchange further with interested institutions and players. Interested? Join our partner programme. You can also follow us on Twitter and our website.